SMILES AND
EXPERT KNOWLEDGE
Are always complimentary
You'll find us refreshing. It's always better to get great service from a stable team that really know what they are talking about and are quite genuinely trying to help you. Perhaps it's because we're independent.  We don't know, but we believe if we are to continue to thrive, a key ingredient is our knowledge and integrity so we're plain talking, informative and naturally communicative. We also work hard to make iSpy a friendly, easy environment where our NHS and private customers feel welcome and part of something a little special.
Providing excellent value for money is at the heart of what we do. We have an extensive range of frames from designer to classic and we are here to help you find the perfect pair, whatever your budget.
View Our Offers
YOUR TEAM OF EXPERTS
iSpy Opticians is an independent optician that's as individual as you are. We're all about choice. Our aim is simple, we put you (our patients) at the centre of everything we do and then we go about trying to satisfy your every need. As a consequence of this we have frames to suit every budget, a designer room full of exclusive brands and a sight test which quite literally is the most comprehensive available on the high street.
I took over this Godalming opticians in 2006. Prior to this, I had worked both in the high street and hospital eye service, as well as a volunteer optician overseas. My aim is to provide patients with the latest, most professional and personal eye care service you'll ever need.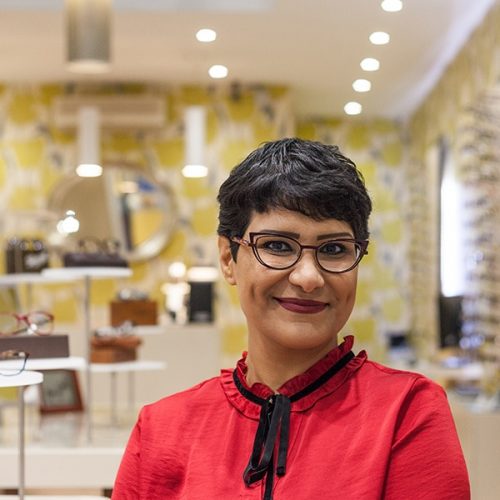 I am a final year Trainee Dispensing Optician. Having worked as a personal stylist and fashion consultant for 12 years before coming into Optics, I enjoy using my styling skills to help find the perfect frame for each patient, paying special attention to face shapes and colouring.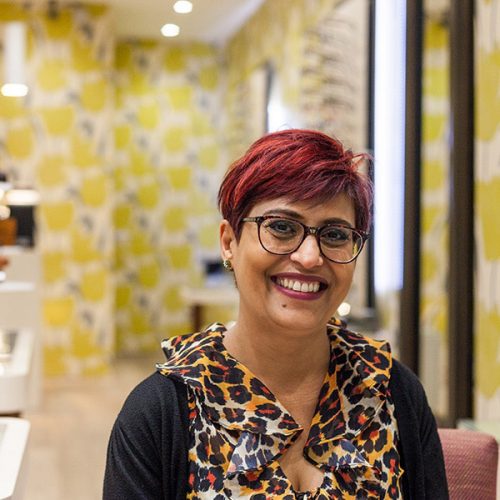 With 30 years experience as a fully qualified dispensing optician, this role has always been a real passion for me. I simply love helping clients choose the correct lenses for their unique prescription and I have a skilled eye for selecting the best shape and colour frames that fit perfectly and enhance your personality. I promise to make you feel amazing in your new glasses and proud to show them off to your friends and family.
I joined iSpy in 2007 having qualified in 2003. I have worked at all manner of high street opticians over the years, however have always preferred working at an independent practice as it allows me the freedom to provide the highest quality of care and service with the help of a supportive team around me.
What Our Customers Say About Us
Carol Fisher

"They know their stuff, the range is excellent and the service is personal!"
Sandra Richardson

"We came all the way from Luton based on range & helpfulness - was not disappointed"
Naomi Salem

"Fantastic honest and trustworthy service. Lovely designs too!"
Mr Salter

"Always leave with a smile. Thank you."
Ms Greenwood

"The most unusual, creative and eclectic opticians imaginable – with a fabulous and personal service to match."
Ms Anderson

"Love the interior. Very friendly staff."
Ms Taylor

"Very helpful, very pleasant – excellent."
Mr & Mrs Hothersam

"My most favourite shop in Godalming!!"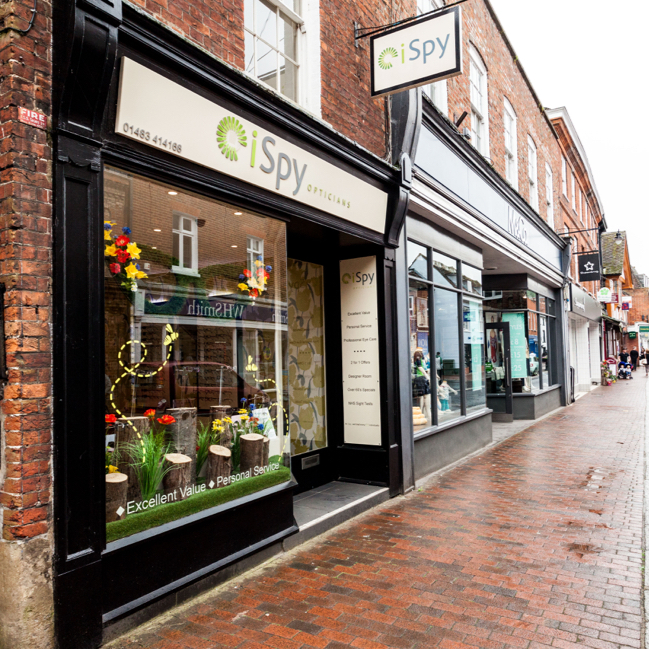 DONATE THE GIFT OF SIGHT
We often take sight and the correction of it for granted.  10% of the world's population are visually impaired because they cannot afford glasses. At iSpy, patients can donate their old frames to us and we will redirect them via Visual Aid Overseas (VAO) for use by doctors and orphans in developing countries.